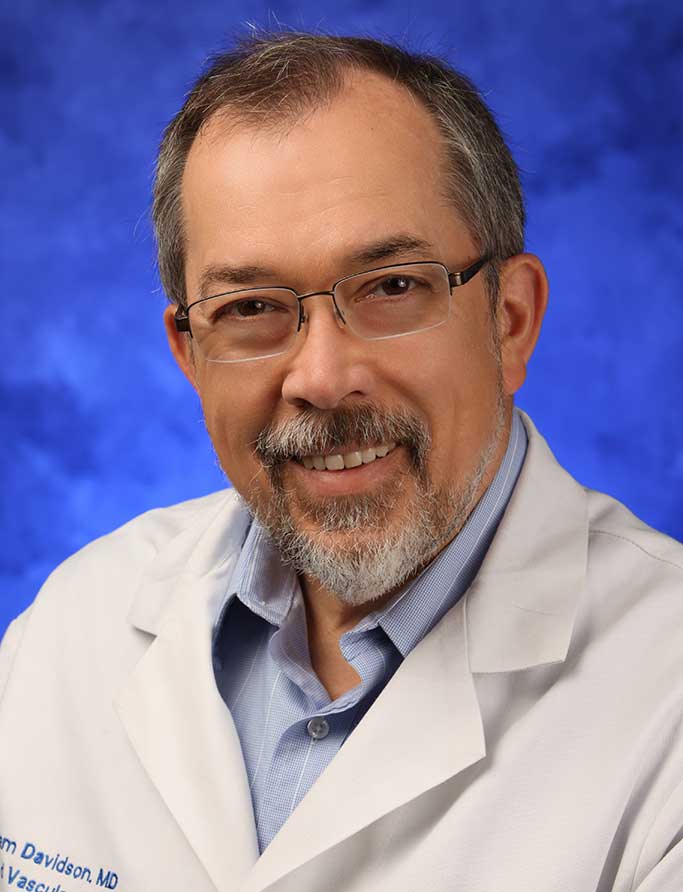 William R. Davidson, Jr., M.D.
Office Location
Penn State Hershey Heart and Vascular Institute
500 University Drive
Hershey, PA 17033
Tel: 800-243-1455
Fax: 717-531-4077
Echocardiography
Adult Congenital Heart Disease
Fellowship, Cardiology, University of Rochester Medical Center (New York) (1985)
Residency, Internal Medicine, Pennsylvania Hospital (1982)
M.D., University of Pennsylvania School of Medicine (1979)
Pu, M, Gao Z, Zhang X, Liao D, Pu DK, Brennan T, Davidson WR, Jr
Impact of Mitral Mar 2009 Sukernik, MR, Davidson WR, Jr
Incidental Finding of Incompletely Ligated Left Graham TP, Bernard YD, Arbogast P, Thapa S, Cetta F, Child J, Chugh R, Davidson, WR, Jr, et al.
Outcome of pulmonary valve replacements in adults after tetralogy repair: A Multi-Institutional Study. Yang H, Pu, M, Chambers CE, Weber HS, Myers JL, Davidson WR, Jr,.
Quantitative Assessment of Pulmonary Insufficiency by Doppler Echocardiography in Patients with Adult Congenital Heart Disease.
Cardiovascular Teacher of the Year – 2003-2004
Class of 2006, Favorite Professor from the Cardiology Block, 2004.
Teacher of the Year, 1998 and 2004, Cardiology Fellowship
Listed in "The Best Doctors in America", Northeast Region, 1996-1997, 2005, 2006
Mosby Book Award (Medical School), 1979