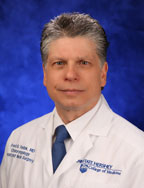 Fred George Fedok, M.D., F.A.C.S.
Office Location
Penn State Hershey Otolaryngology - Head and Neck Surgery
500 University Drive, UPC I, Suite 400
Hershey, PA 17033
Tel: 800-243-1455 / 717-531-6822
Fax: 717-531-4907
Cosmetic Surgery
Maxillofacial Trauma
Adult and Pediatric Facial Plastic and Reconstructive Surgery
Otolaryngology/Head and Neck Surgery
Treatment of Facial and Neck Skin Cancer
Nasal Surgery and Rhinoplasty
Show all patient services »
Dr. Fred Fedok received his Bachelor of Science degree at the University of Pittsburgh in 1975 and his Doctor of Medicine degree from the Pennsylvania State University in 1979. Dr. Fedok completed his postgraduate internship at the Harbor UCLA Medical Center in Los Angeles in 1980. He then completed his general surgery and otolaryngology-head and neck surgery training at Pennsylvania State University from 1985-1989. During training, Dr. Fedok developed a strong interest in plastic surgery of the face, head, and neck and completed a year of specialized fellowship training with the American Academy of Facial Plastic and Reconstructive Surgery at the McCollough Plastic Surgery Clinic during 1990-1991. This experience was in cosmetic and reconstructive surgery of the nose, eyes, face, head and neck.
Dr. Fedok has been practicing and actively involved in teaching facial plastic and reconstructive surgery to the residents at the Penn State Hershey Medical Center where he holds the appointment of Chief and Professor of Surgery, Otolaryngology-Head and Neck Surgery. Dr. Fedok is actively involved as a member on several national committees, and lectures on a national and international level. He is currently a Fellow and Member of the following: American Academy of Otolaryngology-Head and Neck Surgery, Society of University Otolaryngologists, American College of Surgeons, Pennsylvania Medical Society, Dauphin County Medical Association, and The American Medical Association. He is Board Certified by the American Board of Facial Plastic and Reconstructive Surgery, and The American Board of Otolaryngology. He is Chairman of The Facial Plastic and Reconstructive Education Committee of the American Academy of Otolaryngology-Head and Neck Surgery, serves on the Board of Directors of the American Academy of Facial Plastic and Reconstructive Surgery, and is AAFPRS Surgical Specialty Governor of the American College of Surgeons Board of Governors.
Fellowship, Surgery, Plastic, McCollough Aesthetic Medical Center (1991)
Residency, Penn State Milton S. Hershey Medical Center (1989)
Residency, Surgery, General, University of California - Los Angeles Medical Center (1980)
M.D., Penn State Hershey College of Medicine (1979)
Treatment Outcomes in Nasal and Neck Cancer
Trends in the Use of Technology in Cosmetic Surgery
Ondik MP, Lipinski L, Dezfoli S, Fedok FG.
The treatment of nasal fractures: A changing paradigm.
Arch Fac Plast Surg 11(5):296-302, 2009. Fedok FG.
Revision rhinoplasty using the endonasal approach.
Facial Plast Surg 24(3):293-309, 2008. Fedok FG.
The Aging Face.
Facial Plast Surg 12(2):107-115, 1996. Scurry WC, Goldenberg D, Chee MY, Lengerich EJ, Liu Y, Fedok FG.
The regional recurrence rate of squamous cell carcinoma of the anterior nasal cavity: a systematic review and meta-analysis.
Arch Otolaryngol Head Neck Surg 133(8):796-800, 2007. Fedok FG.
Advances in minimally invasive facial rejuvenation.
Current Opinion in Otolaryngology and Head and Neck Surgery 16(4):359-368, 2008.
Francis W. Davison Award (1998, 1992, 1995)
Best Doctors in America (1996-present)
American Academy of Otolaryngology - Head and Neck Surgery 1997 Honor Award
American Academy of Otolaryngology - Head and Neck Surgery 2009 Distinguished Service Award