Profile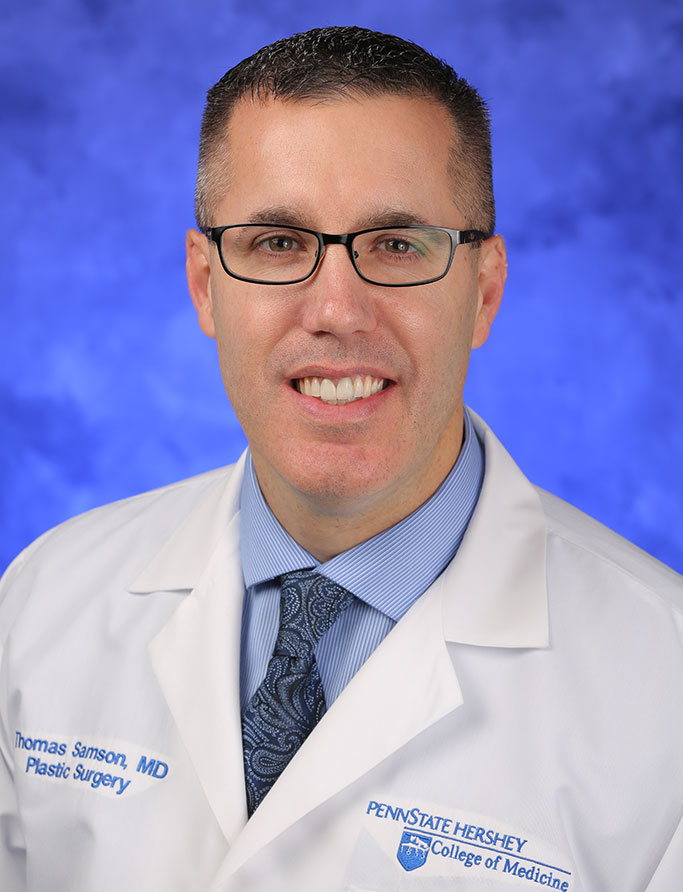 Thomas Daniel Samson, M.D.
Assistant Professor of Surgery, Pediatrics & Neurosurgery
Office Information
Penn State Hershey Plastic Surgery
30 Hope Drive, Building A, Suite 1860
Hershey, PA 17033
Tel: 800-243-1455 / 717-531-8952
Fax: 717-531-0098
Specialties
Patient Services Provided
Pediatric Plastic Surgery
- Cleft Lip and Palate
Craniofacial Surgery
- Craniosynostosis
Vascular Malformations
Adult and Pediatric Facial Trauma
Show all patient services »
Practice Locations
Professional Education
Fellowship, Surgery, Craniomaxillofacial, The Hospital for Sick Children - University of Toronto (2010)
Residency, Surgery, Plastic, Milton S. Hershey Medical Center (2009)
Residency, Surgery, General, Mayo Clinic (Arizona) (2007)
M.D., Creighton University School of Medicine (Nebraska) (2002)
Publications
Samson TD, Mackay DR, Boustred AM.
Lip Reconstruction.
American Society of Maxillofacial Surgery- Internet Hyperguide. 2009 May. Samson TD, Dias M, Boustred AM.
Cranial Auto-Graft Expansion: The CAGE technique for Cranial Vault Expansion.
J Craniofac Surg. 2008. 19(6): 1628-1630. Samson TD, Beals SP, Rekate HP.
Massive Wormian Bone at the Cranial Apex: Identification, Correction and Outcome.
J Craniofac Surg. 2008. 19(1): 96-100. Garvey PB, Samson TD, Buchel EW, et al.
The DIEP and Pedicled TRAM: a Comparison of Outcomes.
Plast Reconstr Surg. 2006. 117(6): 1711-1719, discussion 1720-1721, 2006 May. Samson TD, Buchel EW, Garvey PB.
Repair of Infected Abdominal Wall Hernias in Obese Patients Using Autologous Dermal Grafts for Reinforcement.
Plast Reconstr Surg. 2005. 116(2): 523-527; discussion 528.