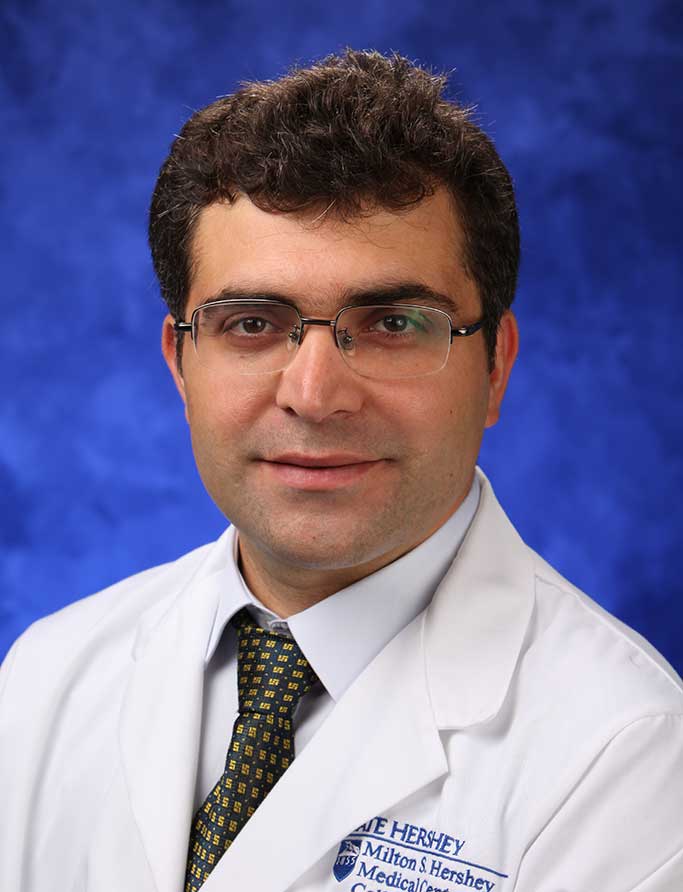 Huseyin Isildak, M.D.
Director of Otology and Neurotology
Director of Cochlear Implant Program
Office Location
Penn State Hershey Otolaryngology - Head and Neck Surgery
500 University Drive, UPC I, Suite 400
Hershey, PA 17033
Tel: 800-243-1455 / 717-531-6822
Fax: 717-531-4907
Dr. Huseyin Isildak joined the Division of Otolaryngology – Head & Neck Surgery as an Assistant Professor of Surgery on August 1, 2013. Dr. Isildak comes to us after having completed a Otology & Neurotology Clinical Fellowship at Paparella Ear, Head & Neck Institute, Minneapolis, MN. He also completed an Otology Fellowship at Delaware Otologic Medicine and Surgery, Christiana Health Care System. Dr. Isildak completed his Otolaryngology Residency at Cerrahpasa Medical School in Istanbul, Turkey.

Dr. Isildak's special interests are otology/neurotology, cochlear implantation, ear and hearing problems, and dizziness.
Fellowship, Otology, Minnesota Ear, Head & Neck Clinic (2013)
Fellowship, Otology, Christiana Care Health System - GME (2012)
Residency, Otolaryngology, Istanbul University - Cerrahpasa Faculty of Medicine (2010)
M.D., Istanbul University - Istanbul Faculty of Medicine (2003)
Isildak H, Karaman E, Yilmaz M, Hacizade Y, Isildak H, Cansiz H.
Severe visual loss after ear surgery.
J Craniofac Surg. 2010 Jan;21(1):155-6. doi: 10.1097/SCS.0b013e3181c50dfd. Isildak H, Albayram S, Isildak H.
Spontaneous intracranial hypotension syndrome accompanied by bilateral hearing loss and venous engorgement in the
J Craniofac Surg. 2010 Jan;21(1):165-7. doi: 10.1097/SCS.0b013e3181c50e11. Isildak H, Karaman E, Ozdogan A, Ibrahimov M, Yilmaz M.
Unusual manifestations of bilateral carotid artery dissection: Dysphagia and hoarseness.
Dysphagia. 2010 Dec;25(4):338-40. doi: 10.1007/s00455-010-9273-5. Epub 2010 Feb 27. Işıldak H, Ibrahimov M, Yilmaz M, Enver O, Albayram S.
A purely intracanalicular cochlear schwannoma presenting with progressive hearing loss.
Ear Nose Throat J. 2011 Oct;90(10):481-8. Ünel S, Yilmaz M, Albayram S, Işık Z, Ceyhan E, Isildak H, Teixido M, Savas Y, Kiris A.
Anastomoses of the vestibular, cochlear, and facial nerves.
J Craniofac Surg. 2012 Sep;23(5):1358-61.