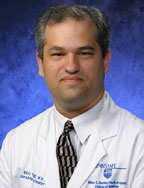 Eric T. Kimchi, M.D., F.A.C.S.
Office Location
Penn State Hershey Surgical Specialties
Surgical Oncology
500 University Drive, UPC I, Suite 3100
Hershey, PA 17033
Tel: 800-243-1455 / 717-531-8887
Fax: 717-531-3649
Surgical Oncology
General Surgery
Liver Cancer
Esophageal Cancer
Pancreatic Cancer
Biliary Tract Cancer
Upper Gastrointestinal Tract Surgery
Gastric Cancer
Show all patient services »
Fellowship, Surgical Oncology, University of Chicago Hospitals (2005)
Residency, Surgery, General, Wayne State University Hospital, GME (2002)
M.D., Penn State Hershey College of Medicine (1996)
Novel therapies of upper gastrointestinal cancers
Role of circulating tumor cells in upper gastrointestinal malignancies
Tumor Immunology
Bright RK, Kimchi ET, Shearer MH, Kennedy RC, Pass HI.
SV40 Tag-specific cytotoxic T lymphocytes generated from the peripheral blood of malignant pleural mesothelioma patients.
Cancer Immunol Immunother. 50(12):682-690, 2002.
Lopez CA, Kimchi ET, Mauceri HJ, Park JO, Mehta N, Murphy KT, Beckett MA, Hellman S, Posner MC, Kufe DW, Weichselbaum RR.
Chemo-inducible gene therapy: a strategy to enhance doxorubicin antitumor activity.
Mol Cancer Ther. 3(9),1167-1175, 2004.
Kimchi ET, Posner MC, Park JO, Darga T, Mezhir JJ, Smith KD, Kocherginsky M, Karrison T, Hart J, Weichselbaum RR, Khoderev NN.
Progression of Barrett's metaplasia to adenocarcinoma is associated with the suppression of the transcriptional programs of epidermal differentiation.
Cancer Res. 65(8):3146-3154, 2005.
Choudry H, Avella D, Garcia L, Han D, Staveley-O'Carroll K, Kimchi E.
Use of the left renal vein as a practical conduit in superior mesenteric vein reconstruction.
J Surg Res. 146(1):117-120, 2008.
Jiang Y, Kimchi ET, Montero AJ, Staveley-O'Carroll KF, Ajani JA.
Upper gastrointestinal tumors: current status and future perspectives.
Expert Rev Anticancer Ther. 8(6):975-91, 2008.
Show all publications »