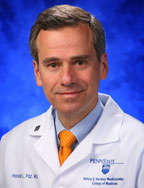 Harold L. Paz, M.D.
Office Location
Penn State Hershey Pulmonary Medicine
500 University Drive
Hershey, PA 17033
Tel: 800-243-1455 / 717-531-6525
Fax: 717-531-5785
Pulmonary medicine
Sarcoidosis
Harold L. Paz, M.D. is board certified in Internal Medicine and Pulmonary Medicine, with a special interest in patients with sarcoidosis. He received his medical degree from the University of Rochester School of Medicine and Dentistry. He completed his internship and residency at Northwestern University, followed by a fellowship in pulmonary and critical care medicine at Johns Hopkins.

Dr. Paz serves as Penn State University's Senior Vice President for Health Affairs, Dean of its College of Medicine, and Chief Executive Officer of the Penn State Milton S. Hershey Medical Center, positions he has held since April 2006. Prior to his appointment at Penn State, Paz served as Dean of the Robert Wood Johnson Medical School and CEO of Robert Wood Johnson University Medical Group for eleven years. Dr. Paz is an avid runner who enjoys competing in road races. His wife, Sharon, is a practicing clinical psychologist specializing in children and adolescents. They have two grown children.

Fellowship, Pulmonary Medicine, Johns Hopkins University, School of Medicine (1988)
Residency, Internal Medicine, Northwestern University Medical School (1986)
M.D., University of Rochester, School of Medicine & Dentistry (1982)
Health care delivery systems and health outcomes
Epidemiology and outcomes of septic shock
Application of new technology in critical care medicine

Dombrovskiy VY, Martin AA, Sunderram J, Paz HL
Occurrence and outcomes of sepsis: influence of race. Crit Care Med 2007
Dombrovskiy VY, Martin AA, Sunderram J, Paz HL
Rapid increase in hospitalization and mortality rates for severe sepsis in the United States: a trend analysis from 1993 to 2003. Crit Care Med 2007.
Paz HL, Martin AA
Sepsis in an aging population. Critical Care Medicine 2006
Dombrovskiy V, Martin A, Sunderram J, Paz H
Utilization of drotrecogin alfa (activated) for severe sepsis in New Jersey acute care hospitals. Am J Health Syst Pharm 2006.
Rice TW, Wheeler AP, Morris PE, Paz HL, Russell JA, Edens TR, Bernard GR
Safety and efficacy of affinity-purified, anti-tumor necrosis factor-alpha, ovine fab for injection (CytoFab) in severe sepsis. Crit Care Med 2006.
Show all publications »
Alumni Merit Award, Northwestern University Alumni Association, 2007
Fellow, American College of Physicians, 1990-present
Honorary Alumni Award, UMDNJ-Robert Wood Johnson Medical School Alumni Association, 2005
Fellow, American College of Chest Physicians, 1990-present
Sir William Osler, MD, Humanitarian Award, American Lung Association of New Jersey and New Jersey Thoracic Society, 2005
Gold Humanism Honor Society, 2005
Eudowood Fellow, Johns Hopkins University School of Medicine, 1987-1988
Distinguished Service Award, Melvyn H. Motolinsky Research Foundation, 1998