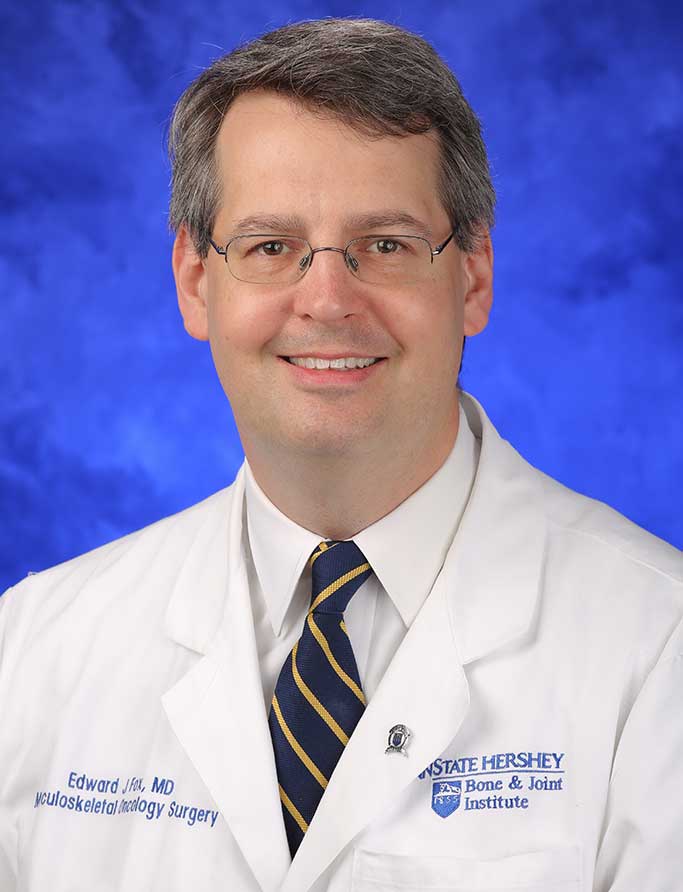 Edward Joseph Fox, M.D.
Professor of Orthopaedics and Rehabilitation and Medicine
Office Location
Penn State Hershey Bone and Joint Institute
30 Hope Drive, Building B, Suite 2400
Hershey, PA 17033-0850
Tel: 800-243-1455 / 717-531-5638
Fax: 717-531-0983
Musculoskeletal Oncology
Orthopaedic Surgery
Musculoskeletal tumors
Limb salvage surgery
Benign/malignant bone tumor
Metastatic cancer
Benign/malignant soft tissue tumors
Osteoporosis/metabolic bone diseases
Fellowship, Musculoskeletal Oncology Surgery, Massachusetts General Hospital-Harvard Medical School (2001)
Residency, Orthopaedic Surgery, SUNY at Stony Brook, College of Medicine (2000)
Residency, Surgery, General, SUNY at Stony Brook, College of Medicine (1996)
M.D., University of Rochester, School of Medicine & Dentistry (1995)
My clinical specialty of Musculoskeletal Oncology Surgery has lead me to perform bench top basic science and clinical research of both benign and malignant tumors of the bone and soft tissue, with an emphasis on sarcomas.
My current research is in the area of sarcoma metastases; Dr. Tim Ritty, PhD, of our Orthopaedics Department laboratory, who concentrates on osteosarcoma MMP and Integrin expression, has been working with me to explore the role of these proteins in the development of osteosarcoma metastases, in vitro and in vivo, in mice and humans, respectively. We hope that this work will foster not only further understanding of the mechanism of metastases, but reveal novel treatment avenues as well.
In addition, we are also pursuing exploration into sarcoma biomarkers and extracellular matrix proteins, immunological responses, and selective delivery of therapeutic agents through collaboration with other investigators within our institution's Sarcoma Disease Team and Translational Cluster.
My academic interests range from teaching medical students and residents to the organization of multidisciplinary clinical tumor teams to foster better patient care and research.
I am currently Director of Medical Student Musculoskeletal Education within the Dept. of Orthopaedic Surgery and also Co-director of several musculoskeletal medical student courses, ranging from musculoskeletal examination to musculoskeletal oncology and metabolic bone diseases. In addition I also lecture to our residents in Orthopaedic Surgery as well as other departments such as Adult and Pediatric Hematology Oncology, General Surgery, and Radiology.
I have with the help of other clinicians and basic scientists formed an Adult Sarcoma Board, the main goal of which is to discuss and coordinate sarcoma patient care from a multidisciplinary approach, but also foster research efforts and collaborations. This Board has taken off recently in new directions; it's creation has fostered the idea of forming a Sarcoma Disease Team through the Penn State Cancer Institute. This idea and subsequent inquiry has since fostered newfound research collaborations between the Orthopaedics Dept. and the Surgical Oncology as well as Plastics Surgery Divisions.
In addition, the recent call by Penn State for Translational Research Clusters (TRC) to be included into their Clinical and Translational Sciences Inst. (CTSI) NIH grant has also fostered our proposal within the Adult Sarcoma Board of a Sarcoma Translational Research Cluster, which will fall under the umbrella of the Sarcoma Team.
Through the Sarcoma Team and Sarcoma Translational Research Cluster, I hope to continue in depth clinical and basic science research not only in sarcomas but also other benign and malignant tumors within our team collaborations.
Rosier RN, Hicks DG, Fox EJ, O'Keefe, R. et al.
Constitutive Expression of P-Glycoprotein in Chondrosarcoma May Explain Chemotherapeutic Resistance Fox EJ, Hau MA, Gebhardt MC, Hornicek FJ, et al.
Long-Term Followup of Proximal Femoral Allografts Apr 2002 Fox EJ, Torbert JT, Martin AM, Staddon AP, et al.
The Effects of Ciprofloxacin and Paclitaxel on Metastatic and Recurrent Human Chondrosarcoma. Gamble K, Dardarian TS, Finstein J, Fox EJ, et al.
Osteomyelitis of the Pubic Symposium in Pregnancy Nikkel LE, Hollenbeak CS, Fox EJ, Uemura T, Ghahramani N
Risk of Fractures After Renal Transplantation in the United States Jun 2009