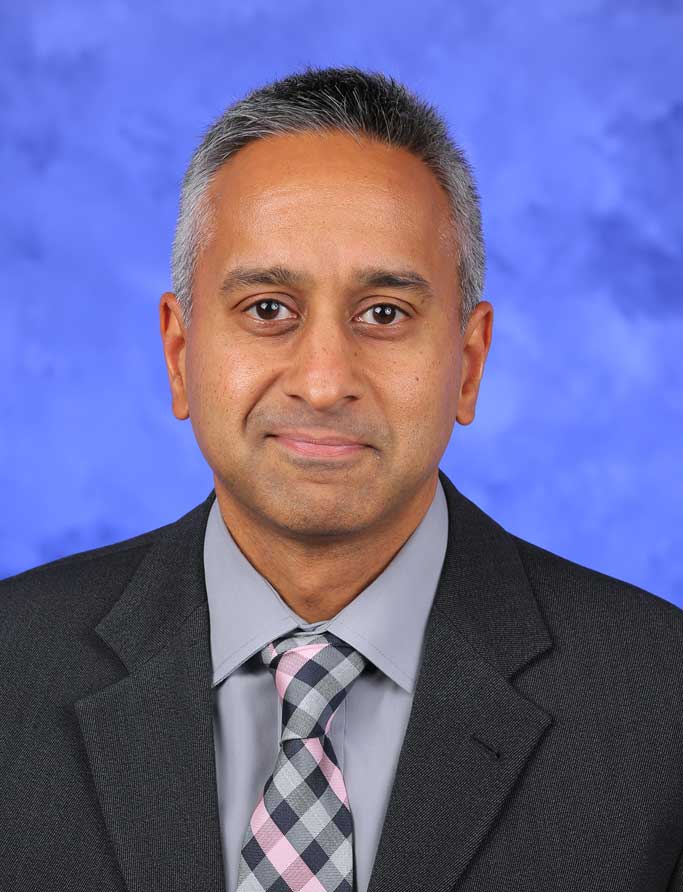 Jay D. Raman, M.D.
Office Location
Penn State Hershey Surgical Specialties
500 University Drive, UPC II, Suite 3100
Hershey, PA 17033
Tel: 800-243-1455 / 717-531-8887
Fax: 717-531-4475
Robotic Surgery
Prostate cancer
Kidney cancer
Testis cancer
Bladder cancer
Oncology
Dr. Raman is currently an Associate Professor in the Division of Urology at the Penn State Milton S. Hershey Medical Center in Hershey, PA. He received his undergraduate degree from MIT and graduated AOA from Cornell University Medical College. Dr. Raman completed his urology residency at Cornell Medical Center followed by a fellowship in Laparoscopy and Endourology at the University of Texas Southwestern Medical Center. His clinical practice focuses on robotic-assisted surgery for upper and lower tract urologic malignancies as well as endourology. Dr. Raman's basic science research centers on markers of kidney injury following renal surgery and his major clinical research efforts revolve around staging and therapy for upper-tract urothelial carcinoma. To date, he has co-authored over 160 manuscripts, book chapters, and editorials and serves as a reviewer for 12 journals. Dr. Raman recently completed his term as Program Chair for the Mid-Atlantic Section of the American Urologic Association (AUA) annual meeting.
Fellowship, Urology, University of Texas Southwestern Medical Center (Dallas) (2008)
Residency, Urology, New York and Presbyterian Hospital-Cornell Campus (2007)
Residency, Surgery, General, New York and Presbyterian Hospital-Cornell Campus (2003)
M.D., Cornell University Medical College (New York) (2001)
Urothelial carcinoma (upper-tract and bladder)
Kidney cancer
Prostate cancer imaging
Prevention of urologic infections
Kidney ischemic injury
Complications of urologic surgery
Kidney tumor ablation
Urinary stone disease
Eggener SE, Clark MA, Shikanov S, Smith B, Kaag M, Russo P, Wheat JC, Wolf JS Jr, Matin SF, Huang WC, Harel M, Cambio J, Shalhav AL, Raman JD.
Impact of warm versus cold ischemia on renal function following partial nephrectomy.
World J Urol. 2015 Mar;33(3):351-7. doi: 10.1007/s00345-014-1315-4. Epub 2014 May 10.
Gyorfi JR, Otteni C, Brown K, Patel A, Lehman K, Phillips BE, Dewan K, Kirimanjeswara G, Raman JD.
Peri-procedural povidone-iodine rectal preparation reduces microorganism counts and infectious complications following ultrasound-guided needle biopsy of the prostate.


World J Urol. 2014 Aug;32(4):905-9. doi: 10.1007/s00345-014-1291-8. Epub 2014 Mar 30.

Empiric antibiotics for an elevated prostate-specific antigen (PSA) level: a randomized, prospective, controlled multi-institutional trial.
Eggener SE, Large MC, Gerber GS, Pettus J, Yossepowitch O, Smith ND, Kundu S, Kunnavakkam R, Zorn K, Raman JD.
BJU Int. 2013 Nov;112(7):925-9. doi: 10.1111/bju.12241. Epub 2013 Jul 26. Lin YK, Kaag M, Raman JD.
Rationale and timing of perioperative chemotherapy for upper-tract urothelial carcinoma.
Expert Rev Anticancer Ther. 2014 May;14(5):543-51. doi: 10.1586/14737140.2014.882774. Epub 2014 Mar 26. Raman JD, Lin YK, Kaag M, Atkinson T, Crispen P, Wille M, Smith N, Hockenberry M, Guzzo T, Peyronnet B, Bensalah K, Simhan J, Kutikov A, Cha E, Herman M, Scherr D, Shariat SF, Boorjian SA.
High rates of advanced disease, complications, and decline of renal function after radical nephroureterectomy.
Urol Oncol. 2014 Jan;32(1):47.e9-14. doi: 10.1016/j.urolonc.2013.06.015. Epub 2013 Oct 17.
Penn State Milton S. Hershey Medical Center Leadership Academy (2014)
American College of Surgeons (ACS) Surgeons as Leaders Program (2015)
American Urologic Association Leadership Program (2013)
American Urologic Association (AUA) Young Urologist of the Year (2015)
Journal of Urology Best Reviewer of the Year (2014)