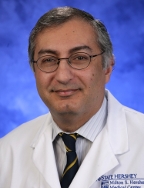 Wafik S. El-Deiry, M.D., Ph.D.
Professor of Medicine, Chief, Hematology/Oncology
Rose Dunlap Division Chair in Hematology/Oncology
Associate Director for Translational Research, Cancer Institute
Office Location
Penn State Hershey Cancer Institute
500 University Drive
Hershey, PA 17033
Tel: 800-243-1455 / 717-531-6585
Fax: 717-531-0429
Colorectal Cancer
Solid Malignancies
Palliative Care
Clinical Trials
Fellowship, Medical Oncology, Johns Hopkins Hospital (Maryland) (1994)
Internship, Internal Medicine, Johns Hopkins Hospital (Maryland) (1990)
M.D., University of Miami School of Medicine (Florida) (1987)
Cancer cell death
Resistance to anti-cancer drugs
Cancer drug discovery and development
Hypoxia and tumor microenvironment
Cancer stem cells
Circulating tumor cells
In vivo molecular imaging
P53 and TRAIL signaling
BRCA1
Mouse models of human cancer
Dr. El-Deiry is committed to translational cancer research focused on bringing new biomarkers and novel therapies into the clinic. He enjoys teaching, clinical work, serving on review panels, editorial boards (including as Founding Editor-in-Chief of Cancer Biology and Therapy since 2001 http://www.landesbioscience.com/journals/cbt) and training future scientists and clinicians. Dr. El-Deiry is a member of the American Society for Clinical Investigation, the American Association for Cancer Research, the American Society for Clinical Oncology, the Interurban Clinical Club, and the Association of American Physicians.
El-Deiry, W.S., Tokino, T, Velculescu, V.E., Levy, D.B., Parsons, R, Trent, J.M., Lin, D, Mercer, W.E., Kinzler, K.W., and Vogelstein, B.
WAF1, a potential mediator of p53 tumor suppression.
Cell, 75:817-825, 1993
Wu, G.S., Burns, T.F., McDonald III, E.R., Jiang, W., Meng, R., Krantz, I.D., Kao, G., Gan, D.-D., Zhou, J.-Y., Muschel, R., Hamilton S.R., Spinner, N.B., Markowitz, S., Wu, G., and El-Deiry, W.S.
KILLER/DR5, a DNA damage-inducible p53-regulated cell death receptor gene.
Nature Genetics, 17:141-143, 1997
Sax, J.K., Fei, P., Murphy, M.E., Bernhard, E.J., Korsmeyer, S.J., and El-Deiry, W.S.
BID transcriptional regulation by p53 contributes to chemosensitivity.
Nature Cell Biology, 4:842-849, 2002
El-Deiry, W.S., Sigman, C.C., and Kelloff, G.J.
Imaging and Oncologic Drug Development
Journal of Clinical Oncology, 24:3261-3273, 2006
Ricci, M.S., Kim, S-H., Ogi, K., Plastaras, J.P., Ling, J., Wang, W., Jin, Z., Liu, Y.Y., Dicker, D.T., Chiao, P.J., Flaherty, K.T., Smith, C.D., and El-Deiry, W.S.
Repression of TRAIL-induced Mcl-1 and CIAP2 expression by c-Myc or Bay 43-9006 (Sorafenib) sensitizes resistant human cancer cells to TRAIL-induced death.
Cancer Cell, 12:66-80, 2007
Show all publications »
2008: Elected Secretary/Treasurer, Interurban Clinical Club, an honor society for physicians started by Sir William Osler in 1905, http://interurbanclinicalclub.org/
2009: American Cancer Society Research Professorship
2008: Elected Member, Association of American Physicians
2008, 2009: Citation in "America's Top Oncologists" by the Consumers' Research Council of America
2006: American Association for Cancer Research Littlefield Award for research on metastatic colon cancer
2007-2010: Associate Editor, Journal of Clinical Investigation
2005: ISI Highly Cited Researcher in Molecular Biology and Genetics