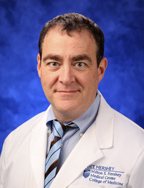 Mark H. Kirschbaum, M.D.
Director, Hematologic Malignancies
Professor of Medicine
Office Location
Penn State Hershey Cancer Institute
500 University Drive
Hershey, PA 17033
Tel: 800-243-1455 / 717-531-6585
Fax: 717-531-0429
Leukemia
Lymphoma
Myeloma
Myelodysplastic Syndrome
Dr. Kirschbaum did his medical oncology and hematology fellowship at the University of Washington-Fred Hutchinson Cancer Research Center in Seattle, WA. He then attended at the famed Dept of Bone Marrow Transplantation at Hadassah University Hospital in Jerusalem, served as a research associate in the Yarden Lab at the Weizmann Institute of Science in Rehovot, Israel, and subsequently joined the faculty, as an attending senior physician in the Dept of Hematology and Bone Marrow Transplantation at the Tel Aviv Sourasky Medical Center.

Dr. Kirschbaum moved to the City of Hope National Cancer Center in Duarte, CA, in 2003. In 2005, he became the Director of New Drug Development in the Dept of Hematology & Hematopoietic Cell Transplantation at City of Hope before coming to Nevada Cancer Institute, where he served as Director of Experimental Therapeutics and Acting Chair of Hematology.

At City of Hope, Dr. Kirschbaum focused his efforts on preclinical and clinical studies using molecular and epigenetic based therapies for hematologic malignancies. He served as the hematologic malignancies coordinator for the California Cancer Consortium, part of City of Hope's federally funded grant for Phase I and Phase II clinical trials through the NIH Cancer Therapy Evaluation Program.

Dr. Kirschbaum's accomplishments included developing and running clinical trials using novel molecular and epigenetic therapies for the treatment of leukemia, lymphoma, and myeloma within his institution and in cooperative groups. He was part of the team that developed the initial reduced intensity stem cell transplant regimen, which is now widely used, and has been involved in clinical and preclinical studies of enhanced conditioning regimens for autologous and allogeneic transplantation.
Fellowship, Hematology, University of Washington School of Medicine (Seattle) (1997)
Fellowship, Medical Oncology, Fred Hutchinson Cancer Research Center (1993)
Residency, Medicine, Kings County Hospital Center (1989)
M.D., SUNY State University of New York-Brooklyn College of Medicine (1986)
Dr. Kirschbaum's clinical trial focus is on novel molecular "smart" drugs with the goal of creating more effective and less toxic therapies that would particularly benefit the older patient population.

Dr. Kirschbaum's current lab research focuses on identifying novel therapies for cancer, with a particular focus on novel epigenetic therapies, such as histone deacetylase inhibitors and their effects upon DNA damage response elements and apoptosis, with the goal of developing novel combination therapies for malignancies and stem cell transplant.
Kirschbaum M, Stein AS, Nakamura R, Nadamanee A, Popplewell L, Delioukina M, Chen R, Snyder D, Conrad J, Frankel P, Forman SJ
A Phase I study of Clofarabine plus Melphalan as a Conditioning Regimen for Allogeneic Stem Cell Transplant
Biol Blood Marrow Transplant, 2012 March; 18(3); 432-40
Younes A, Sureda A, Ben-Yehuda D, Zinzani PL, Ong TC, Prince HM, Harrison SJ, Kirschbaum M, Johnston P, Gallagher J, Le Corre C, Shen A, Engert A
Panobinostat in Relapsed/Refractory Hodgkin Lymphoma Patients Following Autologous Stem Cell Transplant: Results of a Phase II Study


Journal of Clinical Oncology April 30, 2012

Kirschbaum M, Stein AS, Tuscano J, Zain JM, Popplewell L, Karanes C, O'Donnell MR, Pulone B, Rincon A, Wright J, Frankel P, Forman SJ, Newman E
A Phase I Trial Dose Escalation Study of Tipifarnib on a Week-On, Week-Off Schedule in Relapsed Refractory or High-Risk Myeloid Leukemia
Leukemia, 2011 May 31
Kretzner L, Scuto A, Claudia K, Jove R, Forman SJ, Yen Y, Kirschbaum M
Combination Therapy with the Histone Deacetylase Inhibitor Vorinostat Plus the Novel Aurora Kinase A Inhibitor MK-5108 Leads to Enhanced Lymphoma Cell Death Due to Acetylation of p53 and Repression of c-Myc, hTERT, and miRNA Levels


Cancer Research 2011 Jun1;71(11):3912-20

Kirschbaum MH, Goldman BH, Zain JM, Cook JR, Rimsza LM, Forman SJ, Fisher RI
A Phase 2 Study of Vorinostat for Treatment of Relapsed or Refractory Hodgkin Lymphoma: Southwest Oncology Group Study S051 A Phase 2 Study of Vorinostat for Treatment of Relapsed or Refractory Hodgkin Lymphoma: Southwest Oncology Group Study S0517
Leukemia And Lymphoma, 2012 Feb;53(2):259-62