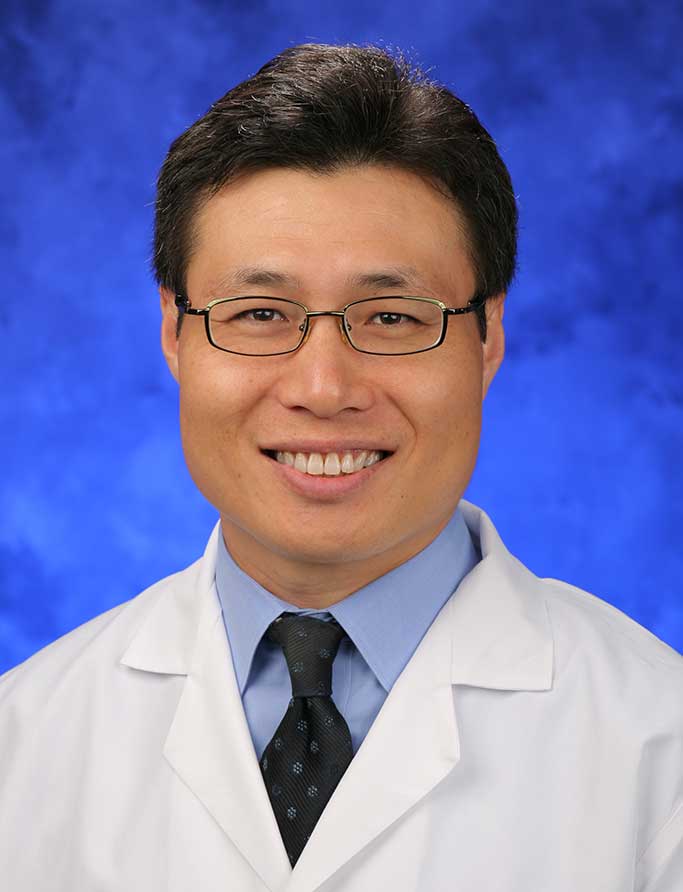 Hyun-Min Mike Kim, M.D.
Assistant Professor
Office Location
Penn State Hershey Bone and Joint Institute
30 Hope Drive, Building B, Suite 2400
Hershey, PA 17033-0850
Tel: 800-243-1455 / 717-531-5638
Fax: 717-531-0983
Orthopaedic Surgery
Shoulder & Elbow Surgery
Joint replacement for shoulder and elbow conditions
Osteoarthritis and inflammatory arthritis of the shoulder and elbow
Rotator cuff disorders
Shoulder and elbow dislocation or instability
Fractures of the shoulder and elbow
Frozen shoulder and shoulder pain
Show all patient services »
Fellowship, Elbow, Shoulder & Sports Medicine, Columbia University College of Physicians and Surgeons (New York) (2012)
Fellowship, Orthopaedic Trauma, University of Missouri - Columbia (2011)
Fellowship, Ortho Surgery, Shoulder & Elbow, Barnes-Jewish Hospital - Washington University Medical Center (2010)
Residency, Orthopaedic Surgery, Daegu Fatima Hospital (2000)
Internship, Surgery, General, Daegu Fatima Hospital (1996)
M.D., Medicine, Kyungbook National University School of Medicine, S. Korea (1995)
Dr. Kim is an active researcher in both basic and clinical science. He has published a number of scientific papers and presented at numerous academic meetings. He was awarded a Neer Award in 2009, a prestigious award for high quality scientific papers in the field of shoulder and elbow surgery. He was the recipient of 2012 OREF Rockwood Shoulder Research Grant. He is currently serving as a reviewer for Journal of Bone and Joint Surgery and Journal of Shoulder and Elbow Surgery. He also serves as a reviewer for Orthopaedic Research Society Meetings. His research is focused on pathogenesis of rotator cuff tears and associated fatty degeneration of the rotator cuff muscles and biomechanics of shoulder replacement.
Zhang J, Yongpravat C, Kim HM, Levine WN, Bigliani LU, Gardner TR, Ahmad CS
Glenoid component surface design effects stress distributions in total shoulder arthroplasty.
Journal of Shoulder and Elbow Surgery, In press, 2012
Redler LH, Kim HM, Tang P, Ahmad CS.
An Anomalous Accessory Pectoralis Major Muscle: A Case Report
American Journal of Sports Medicine, Epub ahead of print, 2012
Thomopoulos S, Kim HM< Silva MJ, Ntouvali E, Manning CN, Potter R, Seeherman H, Gelberman RH
Effect of bone morphogenetic protein 2 on tendon-to-bone healing in canine flexor tendon model.
Journal of Orthopaedic Research, Epub ahead of print, 2012
Chafik D, Galatz LM, Keener JD, Kim HM, Yamaguchi K.
Teres Minor Muscle and Related Anatomy
Journal of Shoulder and Elbow Surgery, Epub ahead of print, 2012
Wall LB, Teefey SA, Middleton WD, Dahiya N, Steger-May K, Kim HM, Wessell D, Yamaguchi K
Diagnostic Performance and Reliability of Ultrasonography for Fatty Degeneration of the Rotator Cuff Muscles
Journal of Bone and Joint Surgery (American), 94(12):E83 1-9, 2012
Show all publications »