Profile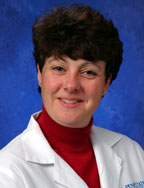 Lisa Susan Poritz, M.D.
Office Information
Penn State Hershey Surgical Specialties
200 Campus Drive, Entrance 4, Suite 3100
Hershey, PA 17033
Tel: 800-243-1455 / 717-531-8887
Fax: 717-531-0646
Specialties
Patient Services Provided
Colon & Rectal Cancer
Crohn's Disease
Ulcerative Colitis
Fecal Incontinence
Laparoscopic Colon & Rectal Surgery
Practice Locations
Professional Education
Fellowship, Surgery, Colon/Rectal, University of Toronto - Post Graduate Training (2000)
Residency, Surgery, General, Penn State Milton S. Hershey Medical Center (1999)
M.D., Northwestern University Medical School (1992)
Research Interests
Inflammatory Bowel Disease
Intestinal Inflammation
Intestinal Permeability
Tight Junction Proteins
Signal Transduction
Graft versus Host Disease
Colorectal Cancer
Leukocyte Adhesion Molecules
Publications
Pogacnik JS, Messaris E, Deiling SM, Connelly TM, Berg AS, Stewart DB, McKenna KJ, Poritz LS, Koltun WA.
Increased risk of incisional hernia after sigmoid colectomy for diverticulitis compared with colon cancer.
J Am Coll Surg. 2014 May;218(5):920-8. Epub 2014 Feb 19. Sehgal R, Berg A, Figueroa R, Poritz LS, McKenna KJ, Stewart DB, Koltun WA.
Risk factors for surgical site infections after colorectal resection in diabetic patients.
J Am Coll Surg. 2011 Jan;212(1):29-34. Epub 2010 Nov 30. Poritz LS, Lebo MA, Bobb AD, Ardell CM, Koltun WA.
Management of peristomal pyoderma gangrenosum.
J Am Coll Surg. 2008 Feb;206(2):311-5. Epub 2007 Oct 18.
Messaris E, Sehgal R, Deiling S, Koltun WA, Stewart D, McKenna K, Poritz LS.
Dehydration is the most common indication for readmission after diverting ileostomy creation.
Dis Colon Rectum. 2012 Feb;55(2):175-80. Sehgal R, Berg A, Polinski JI, Hegarty JP, Lin Z, McKenna KJ, Stewart DB, Poritz LS, Koltun WA.
Genetic risk profiling and gene signature modeling to predict risk of complications after IPAA.
Dis Colon Rectum. 2012 Mar;55(3):239-48.