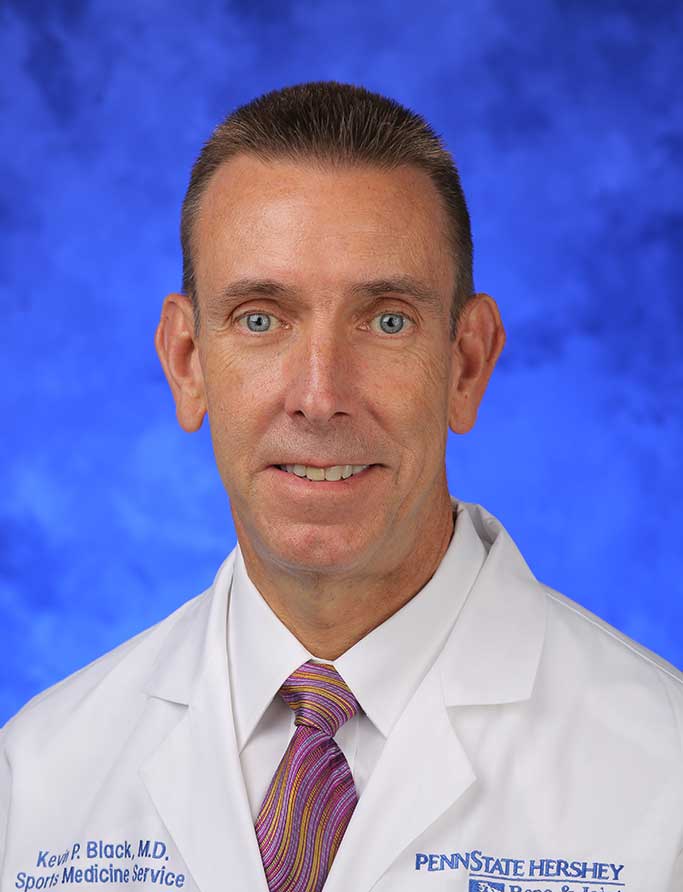 Kevin Paul Black, M.D.
Professor and C. McCollister Evarts Chairman
Vice Dean, University Park Regional Medical Campus
Office Location
Penn State Hershey Bone and Joint Institute
30 Hope Drive, Building B, Suite 2400
Hershey, PA 17033-0850
Tel: 800-243-1455 / 717-531-5638
Fax: 717-531-0983
Orthopaedic Surgery
Sports Medicine
Articular cartilage repair
Osteochondritis dissecans
Knee arthroscopy
Patella instability
Hip and knee pain
ACL Reconstruction
Dr. Black began his career at the Medical College of Wisconsin in 1987, where he developed the Sports Medicine Program. He came to Hershey in 1993 and in September of 2001 became Chairman of the Department of Orthopaedics and Rehabilitation. He is currently the C. McCollister Evarts Professor and Chair of the department. In 1992 he was awarded a Traveling Fellowship by the Clinical Orthopaedic Society and in 2000 was awarded a European Traveling Fellowship by the American Orthopaedic Society for Sports Medicine. He serves as Director of the American Academy of Orthopaedic Surgeons "Orthopaedic Educators Course", the longest running educational program within the academy, as well as Co-Director of the American Orthopaedic Association "Becoming a More Effective Educator Course". Within the American Orthopaedic Association he serves on the Academic Leadership Committee. His clinical interests and associated research interests include knee ligament injuries, osteochondritis dissecans, patella instability and meniscal injuries.
Fellowship, Sports Medicine, Cleveland Clinic Foundation (1987)
Residency, Orthopaedic Surgery, University of Rochester, School of Medicine & Dentistry (1986)
Internship, Orthopaedic Surgery, New York University Medical Center (1983)
M.D., University of Rochester, School of Medicine & Dentistry (1981)
Orthopaedic Resident education
Medical Student education
Knee ligament instability
Articular cartilage injury
Silvis, M., Plakke, M., Tice, J., Black, K.
Splenic Lacerations and Return to Play: Case Report of Two Professional Hockey Players.
Sports Health: A Multidisciplinary Approach, 4(3):232-235.
Silvis, M.L., Mosher, T.M., Smetana, B.S., Chinchilli, V.M., Flemming D.J., Walker, E.A., Black, K.P.
High Prevalence of Pelvic & Hip MRI Findings in Asymptomatic Collegiate & Professional Hockey Players.
Am J Sports Med, 2011; 39(4):715-721.
Southam, J.D., Silvis, M.L., Black, K.P.
Sacral Stress Fracture in a Professional Hockey Player: A Case Report.
Orthopaedics 2; 33(11):846.
Weiker G.T., Black, K.P.
The Anterior Femoral Osteotomy for Patellofemoral Instability
American Journal of Knee Surgery, 10(4):221-227
Mann, T.A., Black, K.P., Zanotti, D.J., Barr, M., Teater, T.
The Natural History of Intercondylar Notch After Notchplasty
American Journal of Sports Medicine, 27(2):181-188
Show all publications »
C. McCollister Evarts Professor and Chair of the Department of Orthopaedics & Rehabilitation
Traveling Fellowship Award from the Clinical Orthopaedic Society in 1992
European Traveling Fellowship Award from the American Orthopaedic Society for Sports Medicine in 2000
Distinguished Educator Award in 2011