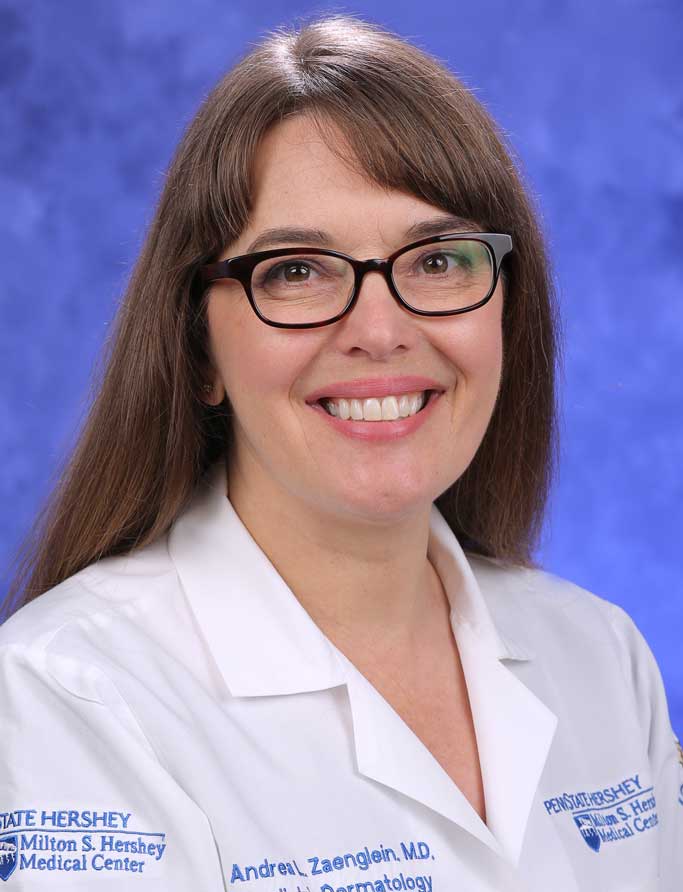 Andrea L. Zaenglein, M.D.
Professor of Dermatology and Pediatric Dermatology
Office Location
Penn State Hershey Dermatology
500 University Drive, UPC 1, Suite 100
Hershey, PA 17033
Tel: 800-243-1455 / 717-531-6820 / (717) 531-6820
Fax: 717-531-4702
Dermatology
Pediatric Dermatology
Fellowship, Pediatric Dermatology, New York University Medical Center (2001)
Residency, Dermatology, MCP Hahnemann (1999)
Internship, Internal Medicine, George Washington University Hospital (1997)
M.D., Penn State Hershey College of Medicine (1996)
Pediatric Dermatology
Clinical investigations include the use of new and existing therapies for the treatment of common pediatric skin diseases, including atopic dermatitis and acne vulgaris. Also, clinical research focuses on evaluating safety and efficacy in the treatment of cutaneous diseases in children.
Acne Vulgaris
We are continuously conducting mild,moderate and/or severe acne vularis studies to enhance the treatment options for teens and adults who suffer from acne. The studies have involved several combinations of investigational and/or FDA approved topical and/or oral medication.
Lumsden KR, Nelson AM, Dispenza Mc, Gilliland KL, Cong Z, Zaenglein AL, Thiboutot DM
Isotretinoin increases skin-surface levels of neutrophil gelatinase-associated lipocalin in patients treated for severe acne.
Zaenglein, A.L.
Lessons Learned in Tanzania
Dermatology World, 20(8): 12
Quach, K.A., Horner, K.L., Shyamsunder B.S., Zaenglein, A.L.
Picture of the Month
Arch Pediatr Adolesc Med, 164(8):769
Salvaggio. H., and Zaenglein, A.L
Parvovirus Infection
In Lebwohol, MG, Heymann, WR, Berth-Hones, J. and Coulson, I., Treatment of Skin Disease, Third Edition (pp. 533-535). New York, NY: Saunders Elsevier, 2010.
Salvaggio, Heather L., Zaenglein, Andrea L.
Examining the Use of Oral Contraceptives in the Management of Acne.
International Journal of Women's Health 2:69-76, 2010.
Show all publications »
President's Volunteer Service Award, 2010